Art Review: Family White Elephant (1860-)
November 5, 2015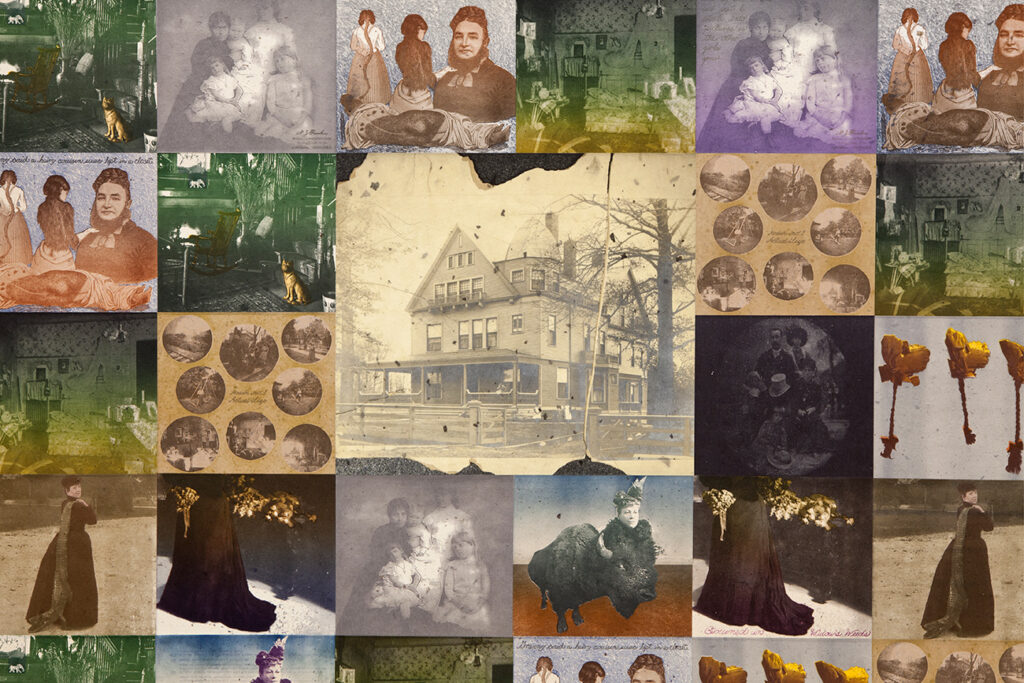 https://columbusunderground.com/art-review-family-white-elephant-1860-nk1/
Review by Nora Kilbane
White Elephant (1860-) is a stunning installation of one-of-a-kind wallpaper by artist Mary Jo Bole. It is currently on view at the Columbus College of Art & Design's Contemporary Art Space, but only for one more week so don't miss it!
Drawing on her trove of family memories and Victorian-era source materials, Bole has transformed this small gallery into a beautiful jewel of a room, a precious reliquary for the quirky treasures of her family history. She also completely transforms our ideas about wallpaper. This complexly patterned mosaic, with its sumptuous color and rich variation of imagery, flies in the face of any notion that wallpaper is merely a banal backdrop for more interesting things.
You are likely to be familiar with Bole's work. Over the years she has exhibited widely and is well-known for sculptures, drawings and prints that engage with themes of time, decay, and the vicissitudes of natural materials. In addition to her book, Combing Columbus, a fascinating and utterly charming illustrated history of the lesser-known and quirky back stories of our town, she had several pieces in Flashback to Now: OAC Support for Individual Artists, at the Riffe Gallery this fall. Her contribution to the Joseph Editions, a top-notch collection of prints from local artists, reveals concerns with time, dissipation, and preservation similar to those found in White Elephant (1864-). In her print, Family Portraits, Now and Then, lilacs stay fresh and lovely in elaborate frames, while flowers left exposed fall prey to the ravages of time.
In her artist's talk at the show's opening, Bole elaborated on her fascination with the Victorian era, family history, the strange and beautiful photographs that have been passed down, and the objects and memorabilia that were carefully safeguarded in her grandmother's trunk. As family members pass on, Bole inherits more treasured photographs, and is working with a sense of urgency to get them organized and housed. She notes with a certain poignance that she is the only living family member who can still identify these Victorian relatives. The poet Jim Harrison wrote, "death steals everything except our stories." Bole's work maximizes on these stories—the objects, places and things—that even death is powerless to completely take away.
For three years, Bole worked with Logan Elm Press to create nearly 2000 separate square panels for the walls, along with a book which is a companion piece to the show. Individually printing each square using photopolymer plates and a Vandercook proofing press gave Bole the ability to have numerous variations among the many versions of the same image. The colors are luscious; the tactile quality of the paper beckons you to touch it. And, in a rare break with typical gallery policy, you should touch it, says Bole, why not? It is ephemeral, just like its subject matter, and will exist only in photographs and memories after next week.
As you move around the room, the colors and patterns change in a captivating dance of repetition and variation. Unique juxtapositions, different orders and sequences serve to create an overall effect that is spectacular. The individual squares are fascinating in their own right, with many based on photographs found in Bole's archives. In some instances she has manipulated them to produce effects that can be humorous, thought-provoking, or mysterious. Great-grandmother Mattie sporting a curly fur coat is perched just like a fascinator on the head of a bison. A picture of Granny Winifred as a child in a costume play has been cut away, leaving only three daffodil hats and attached braids hovering like ghostly place markers for their previous wearers. Some photographs needed no manipulation to pique curiosity, like the odd picture of Mattie Ely, gowned in a long black mourning dress with the inexplicable accessory of an alligator draped down her back.
Certain images come and go throughout, like the graceful weeping willow in its varying seasonal colors, or the illustrious elephant of the show's title. Given as a wedding present to her great grandparents, Frank and Mattie Ely in the 1860s, this sad-eyed porcelain pachyderm has soldiered on though the decades. The elephant was one of her late father's favorite objects, and it still resides on a shelf in Bole's home today.
Periodically, the pattern of identically sized squares is broken. A slightly larger, sepia-toned photograph of the family's Victorian home comes and goes, and Bole has added five large drawings of the family tree. These images pick up on the themes in the wall around them, representing the family history in a way that is non-linear but follows the same chronological order as the room.
Reading like a book from left to right, we begin the story in the 1860s with the Civil War and early years of the Ely family, making our way around the room which finishes in the 1960s with Bole's immediate family. Here on the final wall, the colors intensify, most notably the bright pink of the repeated circular forms on a dark purple ground. Bole calls these the moon and the mammogram. For years, she has been collecting the small stickers containing the little lead beads that are used to locate the nipple in a mammogram. Here, she adds them cheekily to the center of a full round moon. This is an ode to her sister, Winifred, whom she lost to breast cancer and whose balletic leap toward the gallery door signals the end of the final wall.
Bole reveals what is strange and sad, playful and poignant about time, history, loss and memory with an unerring eye and a wry sense of humor. This is a terrific show. I could say much more, but ultimately, the images say it best, so you should go and let them tell their stories first hand.
Mary Jo Bole's White Elephant (1864-) is on display at the CCAD Contemporary Art Space through next Thursday, November 5.
For more information about CCAD's gallery location and hours, visit contemporaryartspace.info/.
http://www.columbusunderground.com/art-review-family-white-elephant-1860-nk1